Bugs

SzeltnerD
12 months ago
in
realvirtual.io Starter and Professional
•
updated by Support

11 months ago

•
3
Hello,
I am working with HoloLens and Unity 2020.3.39f1. I imported "game4automation-Professional-2020.15" and when I build my app as an UWP I get an error. I fixed the error by replacing both files "game4automation\private\Tools\ZIP\I18N.dll" & " game4automation\private\Tools\ZIP\I18N.West.dll" with a version targeting ".Net 4.x".
After this fix, I can successfully build the Visual Studio Solution. When I deploy the app to HoloLens, the deployment always stops at the same step.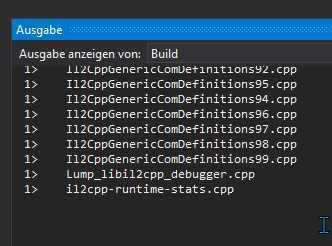 In Unity 2019.4.40f1 with "game4automation-Professional-2019.13" I had to replace the same files. After that it worked and I could run the app on the HoloLens.